For more in this series, please visit the series index.
Vancouver, BC, Canada:
Host of the 2010 Winter Olympic and Paralympics games
Where the X-Files was shot for the first five seasons
Home of the Canucks ice hockey team
And where I stayed for two weeks!
While there I took a few hundred photo's (thanks to my sister for lending me her camera) which I thought I would share. Not all of them, but some of the highlights that will stay in my memory long after my code is no longer used.
Work
My laptop felt a little threatened by the two 24" monitors my desk came with.
If you ever wondered how Willy-Peter keeps pushing out content all the time…
After 5 days of no sun, when it finally came out, I went outside and took a picture (just in case it went away again) – South African's are powered by the sun.
Dry Africa
While travelling I took a chance to drink all the drinks you no longer get in South Africa
Vancouver
The floating Olympic sign with Stanley Park behind it – taken from the Sea Bus.
This Harry Potter like house is actually a house boat. I had never expected for them to look so much like houses.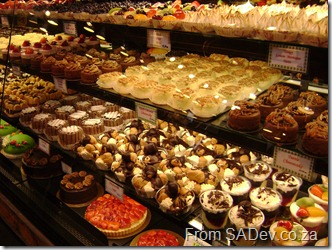 FOOD! This was taken in Granville island, where you need loads more stomachs just to get through it.
SNOW
As someone who had never seen snow before, one of my big highlights was when Willy-Peter and his family took me up Grouse Mountain to go snow shoeing!
At the base of Grouse Mountain – no surprises that they shot some of the X-Files here, it is just so spooky from below. Once up there is is beautiful.
Modern snow shoes aren't like tennis rackets anymore.
Carola and one of our snow shoe guides on the top of the mountain!