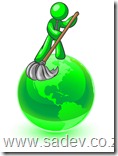 Two months after the event I finally get around to posting a commentary on an aspect of Tech-Ed Africa, that was so under stated that I am wondering if I attended the same event as every one else. This year Tech-Ed Africa really decided, maybe intentionally and maybe not, to be a very green event. By green I mean the whole environmental aspect. How did they do this:
Delegates bags - one of the highlight of Tech-Ed has always been the delegate bag, which generally I use for the whole next year. They are always great quality but this years bags are made by Owl, and almost every thing that made up the bag was from recycled materials.
Paper less - Missing from the bag was the usual pad of writing paper. Yes, less paper saves trees.
Presentation CD's - At the end of the event you used to get a CD/DVD with all the slides on it. Not this year, all had to be downloaded later. This is great for the environment as you have less disks to make which generally don't get used much. As a speaker this is also great since it means the deadline for getting the completed slides to the staff was much longer, so those last minute tweaks that the audience sees, now make the download.
Very interesting approach - would love to know if more was done and why it was not punted more.