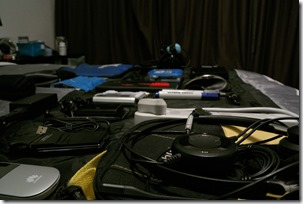 The developers I know who refer to themselves as "craftsman" will, at length, tell you how methodology, principals & practise are all that matters to becoming a successful developer – tools are not important. Often they say that from behind a Mac Book Air, running Visual Studio with Resharper or some other combination of best of breed tooling. None of them code in notepad oddly.
Everyone really does care about their tools and I am totally behind the idea that you are more than your tools, but good tools help which is why I want to share what is in my bag and why it is there.
Daily Driver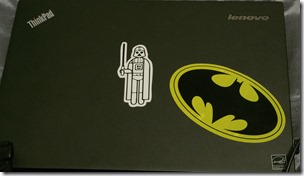 My daily development machine is a Lenovo Thinkpad T440s – it is the best machine I've ever worked on. Weight? It is basically air. It handles app & web dev with no issue. Has a backlit keyboard that is turned off 95% of the time but in those rare moments of darkness, I can turn it on with a keyboard combination. Great performance overall. The touchpad is the best I've ever seen, and considering I think touchpads are evil, that says a lot.
One thing that really stands out is the touch screen – I can't imagine modern development being done without one. It is essential for testing on web & apps.
Why do I carry it?
Simple – it is what I use to do my job!

and it gives me a place to put stickers.
Audio Out
I carry three sets of headphones with me. My primary ones are a set of super comfy large Steel Series ones. They have a built in mic, which is serviceable but since the laptop doesn't have an audio in jack there isn't much use. Thankfully the mic slides into the headphones so it is never in the way. When you have headphones on for hours, comfy wins for me and these are them.
I also carry a, company supplied, Jabra headset. This has a USB connection so the audio in works plus it is designed to work with Lync – so it has a bunch of cool tricks on the control dial. Not great for comfort or quality, but for a meeting where I want to keep my hands on the keyboard it is okay.
Last is my tiny Sennheisers – these don't get used often as they are the backup. 
Both my sets have something to wrap the cables with – the big ones using the fantastic apple core which I got at JSinSA.
Why do I carry it?
You need to focus, and having music or podcasts will help. It also means less disturbance to your co-workers.
The issue with large headphones I use at home & work is I may leave them at home and then could be stuck with no audio the next day; so the small Sennheisers run as backup for me. This means they seldom leave the bag but having a small high quality backup has come in handy many times.
Audio In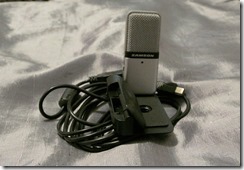 I have a small Samson mic that connects via USB. The audio quality is okay. Considering it is a sub R900 ($90) mic it is pretty good for that price range and it is a million times better than the laptops built in offering. It has three nice features, first a clip/stand/base. In the picture it is standing on it's base, which it can fold flat on to. It can also use the clip to attach to the top of the laptop screen as the mic is on a ball joint and swivel pretty much to any direction (check the link for it, they show off that really well). This stand gives it so much versatility.
Second is the switch on the side, which lets it switch from front facing only to a omni directional mic. The omni directional mic is great for the daily standups where the team & client may not be together, as it gets a lot more audio into the conversation.
Last is the cable, it is stupid long – we often pass it around during the stand ups & it handles the length of our boardroom table with ease.
Why do I carry it?
Meetings; be they a stand up or more formal meeting, having something to capture audio is an essential for a modern developer.
Storage
Nothing too fancy here. A large Seagate, mostly for backups. I also have a tiny plastic box which contains a LOT of USB sticks. Since I switched to carrying the USB sticks in a box, I lose less of them so now I have an issue of having too many… if that could ever happen.
Why do I carry it?
You will lose data. Have backups. Simple as that.
The USB sticks are great for sharing stuff & if they break or get lost there is no issue.
Mouse
I've written about my mouse before, (and it is the exact same mouse still - it is 6 years old now) and I stand by that – the Logitech Performance Mouse MX is the best mouse you can get & you owe it to your hands to be happy.
Why do I carry it?
Touch pad and touch screen do not beat the performance a real mouse will bring.
Bags
My laptop bag is a Targus (it isn't exactly that bag, but it is close). The bag isn't anything special but Targus as a company is. With my last Targus bag, the zip broke (from squeezing too much in) and all they wanted to ship me a new bag for free was a photo and the service tag removed. They believe their bags will last and they are prepared to back it up that belief. That one interaction has made me a very loyal customer.
I also have some smaller bags worth mentioning:
First is a Targus hard drive bag, nice and padded. It fits the hard drive, its USB cable and my small headphones easily.
Second is the hard shell case which the Samson mic came with. It is great but had no space for the cable (which is a stupid oversight). Thankfully my last Samson mic came with a bag, so the cable and mic/shell go in that bag now.
Last is my, SUPER DIRTY, organiser. It has three pouches and lets me easily store my laptop charger and mouse in a easy to find bag (I can pull it out my laptop without looking). It also doubles as a handy mouse pad which is why it is so filthy.
Why do I carry it?
Ignoring the laptop bag & its obvious use. The hard drive bag & mic bag keeps the devices safe – especially since they are carried to and from the office daily & then on many trips. The organiser is just brilliant, I cannot imagine not having it. Being able to be setup quickly because I am not digging in my bag looking for my power cable is great.
Writing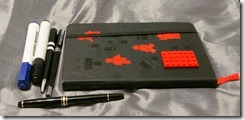 To take notes, I use a Lego Moleskin – it is awesome, best paper I've ever seen. I carry a few pens with me & of course a few whiteboard markers.
Why do I carry it?
I take a lot of notes, every single meeting. I seldom read them. The reason to take them is two fold, first it helps me remember as I am combining listening & an action which helps my brain reinforce the ideas a lot better than merely listening (doing is better than consuming). Second it gives me confidence that, if something is forgotten, I can find it.
Always carry your own whiteboard markers, since meeting rooms are often missing them.
Odds and Ends
I carry a few odd things in the bag too. First is a couple of microfiber clothes and a deck of planning poker cards. I also carry a mifi device & a USB graphics card. The USB graphics card let's me output to USB and has connectors for a few different types of screens. Lastly is some battery packs.
Why do I carry it?
The microfiber clothes is for one reason: Touch Screen.
The reason to carry planning poker cards is because we use them all the time in my teams. I have enough for 6 or 7 people with me so it handles a team well.
The mifi is legacy, before my phone had a wifi hotspot, the mifi it did that job. It is still useful to create a small wifi network for working with others if the main network fails.
The USB graphics card is to handle scenarios where projectors refuse to work with my laptop or if I need another output (for example, video recording on one, projector on the other output).
Battery packs because of Eskom.
Power strip
The best thing I've put in my bag in the last 12 months is a power strip.
Why do I carry it?
Plugs can often be at a premium and this covers me & two more people, plus it has space for two prong plugs like cellphone chargers. It also means that when I travel overseas, I buy one plug converter and then slap this into that and everything is so each to setup – no more plugging my cellphone into my laptop to charge. It is so useful, I wonder why I didn't carry one before.
What's Missing?
What is missing in my bag? At the moment I think there are a few items missing:
Network cable: I think a good quality network cable is worth having. I am tired of either missing cables or cables where the clip is damaged.
A stylus: Drawing is more important than ever for a developer, and I think some sort of good stylist would help improve it.
That is what is my bag? Is there anything you think I am missing? Let me know in the comments!